GOLDEN AGE:
Your Doorway
To Other Worlds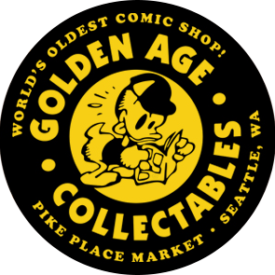 We Are the Oldest Comic Store in the World!
At 19, Rod Dyke bought a comic book store in Pike Place Market. Today, it's thought to be the oldest in business. Rod Dyke picked up his first copy of Spider-Man as a 10-year-old, and he's been in the comic book business ever since. Growing up in Arbor Heights, near White Center, in the 1960s, he'd sell comics to friends and refresh his stock at a bookshop in the hallways of Pike Place Market. "I was their best comic book buyer," he remembers. Such a good customer was Dyke that in 1971 the owners sold him the store. Get the Skinny
Why Doesn't Golden Age Collectables Sell Comics Online?
Great Question. Very simple, Golden Age Collectables is a dish best served hot and in-person. So come on down!
CHECK OUT OUR AWESOME STORE!